Fly with us over the fragrant fields of France
Stunning new technology takes you closer to our passion.
Inspired use of stunning new technology now allows us to take you closer than ever before to the source of our passion – our plants.   
An original, innovative perspective
Now, thanks to drone technology and special 360° cameras, this captivating video flies you over our vibrant fields of Provence, the world's lavender heartland. Travel through the sun-baked southern villages and deep into our fragrant purple lavender groves. Be a fly on the wall in a French distillery and peek inside our labs, where our head perfumers assess the best quality lavender oils… we take you so close you too can almost smell it.
,
Fly with us
On PC/Mac: Press play. Use your mouse to click and drag or click the arrows in the top left corner.
,
Taking responsible sourcing to new heights
This new 360° video invites you to glide on the gusts of a warm French breeze and travel across the lavender fields, getting up close to these iconic fragrant flowers. Few know the artistry that goes into distilling our precious lavender essence, used in the world's finest fragrances and most popular consumer products. Now, this new footage showcases our work in an elegant visual journey.
Natural ingredients lie at the heart of Givaudan's raison d'etre, and, as well as creating magical scents that delight the world, we are also committed to being guardians of the resources we use. One of our staple natural ingredients, lavender, is part of an intricate sourcing plan whereby we not only purchase from the cooperative France Lavande, we work hand-in-hand with these growers to develop hardier, more robust strains of lavender. Our aim is to fight lavender disease and cultivate premium quality in harmony with the local environment.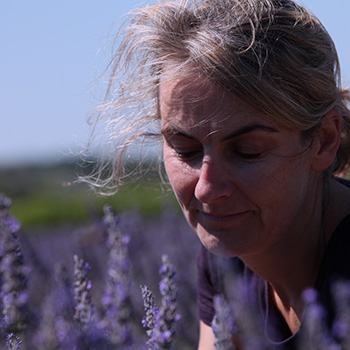 Lavender, together with ylang ylang, vetiver, vanilla, patchouli, tonka beans, sandalwood and benzoin are part of our stable of delicate, frequently used ingredients that hold a special status; their fragile native habitats require us to grow, cultivate and process these precious plants in a very particular way, captured in our Ethical Sourcing programmes.
> Soothing solutions for lavender farmers
"The video gives a rare, 'behind the scenes' access to the world of perfumery. The beautiful scent of lavender is a treasured ingredient and it's exciting to share our passion for naturals with others through modern technology. The creation of a perfume begins here, and the film takes you through this fragrant journey in an innovative and inspiring fashion," said Natalie, senior perfumer.